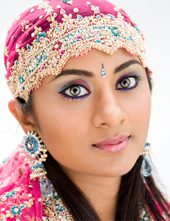 Traditionally, the area between the eyebrows (where the bindi is placed) is said to be the sixth chakra, ajna, the seat of "concealed wisdom".


According to followers of Hinduism, this chakra is the exit point for kundalini energy. The bindi is said to retain energy and strengthen concentration.


It is also said to protect against demons or bad luck.


The bindi also represents the third eye.